Program Description
Nursing
Baccalaureate preparation in nursing is the basic educational level for entry into professional nursing practice, building on knowledge acquired from the humanities, biological, physical, social and behavioral sciences. Our Nursing program provides foundational education through both academic and professional nursing courses that support the provision of patient-centered, safe, quality care in today's healthcare industry settings.
Under the guidance of expert nursing faculty, you will be provided opportunities to gain relevant, hands-on experience and challenged to develop understanding and critical thinking that will support your success as a professional nurse. Our smaller class sizes facilitate close student-faculty relationships where students and faculty know each other by name. Clinical student-faculty ratios of 8:1 facilitate quality engagement and support in the 1,100 hours spent in the clinical setting.
You will have lab experiences in the Hart Simulation Center which has 3G wireless human simulators and a simulated inpatient hospital unit complete with a replicated efficiency apartment, exam tables, and hospital beds. Students will complete 25% of their clinical time in the center, which has been designated as a Gaumard premier site, one of only 33 in the country.
Graduates of the program are eligible to take the National Council Licensure Examination for Registered Nurses (NCLEX-RN) to become a registered nurse (RN). This program is approved by the North Carolina Board of Nursing. The baccalaureate degree in nursing at Lees-McRae College is accredited by the Commission on Collegiate Nursing Education.
The May School of Nursing and Health Sciences at Lees-McRae College will host a team from the Commission on Collegiate Nursing Education (CCNE) from March 15-17, 2017, when CCNE conducts its on-site evaluation of the baccalaureate degree nursing program (RN-to-BSN and Pre-licensure BSN).
Opportunity for Submission of Third-Party Comments
Lees-McRae College invites its major constituents--students, alumni, faculty, employers, clinical agencies and the community at large-- the opportunity to provide input to the review team. Written and signed third-party comments will be accepted by CCNE until February 22, 2017.
Comments may be directed to:
Commission on Collegiate Nursing Education
Attn: Third-Party Comments
Commission on Collegiate Nursing Education
One Dupont Circle, NW, Suite 530
Washington, D.C. 20036
-or-
thirdpartycomments@aacn.nche.edu
Fast facts
The May School of Nursing and Health Sciences was ranked as the #2 up and coming nursing school in the south by Best Master of Science in Nursing Degrees.
More than $1.4 million in state-of-the-art technology invested in the new May School of Nursing and Health Sciences.
Employment for RNs who hold a BSN is expected to grow 22% between 2008 and 2018.
Entry-level salaries for BSN-prepared nurses range from about $31,000 to $38,000 per year depending on the geographic location and prior experience. After five years, the national average is more than $50,000 annually with many earning more than $60,000 (American Association of Colleges of Nursing, 2016).
What You'll Study
During the first two years at Lees-McRae, you will develop a well-rounded educational foundation in liberal arts and basic science. In the junior and senior years, you will be immersed in nursing-focused courses. You will learn about patient-centered care, interdisciplinary collaboration, evidence-based practice, quality improvement, safety, informatics, patient education, professionalism, leadership and systems-based practice. Your educational activities will include learning through the use of state-of-the-art technologies like the Anatomage Table that permits interactive visualization of hidden body organs with realistic size and perspective.
In the Hart Simulation Center, you will provide care to high-fidelity human patient simulators who will respond to your nursing care, either by getting better—or by getting worse. This safe environment will allow you to grow in nursing skill, critical thinking, and prioritization without endangering a "live" patient, learning skills from the beginning foundational level to advanced critical care. Simulated scenarios include bed baths and personal care to the more advanced levels such as starting IVs, administering medications, reading cardiac rhythm strips and even facilitating childbirth.
Additionally, you will have clinical experiences in local hospitals and community-based centers and provide care for clients of all ages in a wide variety of health/wellness states. Interactive learning with real-time feedback is integrated throughout the curriculum through the use of various online learning systems designed to prepare you to take the licensure examination. These include practice tests, case studies, step-by-step skills instruction and video clips of disease processes or nursing procedures—all of which may be repeated until you gain an understanding of content and mastery of the skill.
Beyond the Classroom
You will be invited to participate in student-centered organizations such as the Student Nurses Organization. Networking with your peers will support leadership perspectives, community service, and participation in legislative processes.
You will participate in a variety of clinical settings which may include specific units in local and regional hospitals but also in homeless shelters, therapeutic riding centers, out-patient substance-rehabilitation clinics, nursing homes, pediatric clinics, and schools for students with special needs.
Sigma Theta Tau International
Sigma Theta Tau International (STTI) is a nursing honor society founded in 1922 by six nurses in Indianapolis, IN. STTI now has over 500 chapters with more than 135,000 active members residing in 90 countries around the world. The mission of STTI is advancing world health and celebrating nursing excellence in scholarship, leadership, and service.
The May School of Nursing and Health Sciences has formed an STTI honor society, with the goal of applying for official chapter charter status with STTI by December 2017. As part of our Honor Society, we are inviting nurses with a BSN to become members of the May School of Nursing Honor Society as Community Nurse Leaders. Graduating nursing students are invited to join based upon GPA in the baccalaureate program.
The Honor Society will be hosting events throughout the year to network and discuss how to increase nursing effectiveness using evidence-based practice. For further information about the May School of Nursing Honor Society, please contact Dr. Mary Asher, Membership Chair at asherm@lmc.edu.
After Graduation
As a graduate of the May School of Nursing and Health Sciences, you may choose to work in a variety of settings including hospitals, nursing homes, public schools, physician offices, health departments, communities, prisons, rehabilitation centers, hospice agencies and research laboratories. Baccalaureate-prepared nurses may also choose to pursue further education as nurse practitioners, educators, clinical nurse specialists or administrators.
Last updated Jan 2018
About the School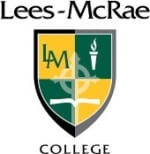 We have one mission. Lees-McRae educates and inspires students to approach life and work from a creative, collaborative, and critical perspective in preparation for diverse careers and environments.
We have one mission. Lees-McRae educates and inspires students to approach life and work from a creative, collaborative, and critical perspective in preparation for diverse careers and environments.
Read less