Bachelor Degree of Medicine
Program Description
We aim to provide distinguished medical education.
Our Mission
To provide a distinguished medical education, innovative research and community services, within a framework of ethics and values of the profession.
Goals
The competent, effective, and compassionate care of patients and the advancement of knowledge about the disease and its prevention and treatment require that medical students in training be introduced to a lifelong educational process in the practice of medicine. Medicine Program provides a critical phase of this education. The goals of the Medicine Program include educating students who should achieve the highest ethical and performance standards required to provide exemplary patient care, and who will assume leadership roles in the areas of clinical medicine, research, and teaching.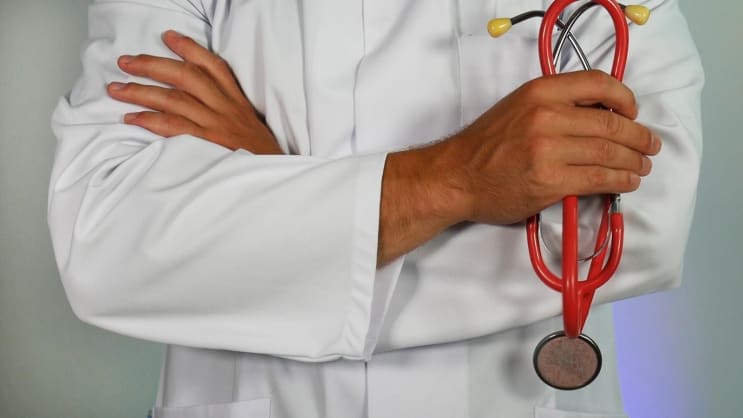 Online Marketing / Unsplash
Program Description
Qualifications offered by the Program in Medicine is a Bachelor's degree in Medicine and Bachelor of Surgery (MBBS). The length of the program is 7 years (which includes a preparatory year). All students are eligible to practice medicine in the country after passing the Saudi Licensing Examination (SLE).
After being eligible for admission to the Medicine program, it is comprised of five years for undergraduate teaching and one internship year for the clinical training. Students cannot graduate until he/she passed successfully the fifth year and thereafter the internship year evaluation.
The Medicine Program follows traditional teaching. Throughout the first two years, students study the basic sciences such as Anatomy, Histology, Physiology, and Biochemistry. The third year is considered as the preclinical year where the students study more relevant subjects to a clinical career such as Pathology, Pharmacology, and Microbiology with some other specialties. The fourth and fifth years are the clinical years where the students study Surgery, Internal Medicine, Pediatrics and Obstetrics and Gynecology. The clinical training for these subjects is conducted through the hospitals of the Ministry of Health in Jeddah namely King Fahd Hospital, King Abdul Aziz Hospital, Al Azizzia Hospital, and Al Mosadiah Hospital. The students throughout the internship year will have their clinical training at these hospitals as well.
Theoretical teaching is mainly through lectures; with interactive participation of students throughout the lectures by frequently providing case studies and case scenarios. The main teaching methods in the practical and clinical sessions relies on problem-solving by providing incidental cases and encouraging brainstorming and critical thinking.
Program Structure
Medicine Program consists of:
Department of Anatomy
Department of Biochemistry
Department of Physiology
Department of Pathology
Department of Microbiology
Department of Pharmacology
Department of Surgery
Department of Internal Medicine
Department of Pediatrics
Department of Obstetrics & Gynecology
Department of Community Medicine
Skills Lab Unit
Medical Education Unit
Career Path / Advice
All students are eligible to practice medicine in the country after passing the Saudi Licensing Examination (SLE).
They can practice as General Practitioners in the hospitals, clinics and outpatient departments.
They can work in an Emergency Department and ICU.
They can do Residency and Post-graduation work in all the specialties of Medicine.
They can work as Teaching Faculty / Academics.
They can be Researchers.
Curriculum
First and Second Year
ANTMD 201 Anatomy & Histology I
ANTMD 202 Anatomy & Histology II
BCHMD 201 Biochemistry I
BCHMD 202 Biochemistry II
PHYSMD 201 Physiology I
PHYSMD 202 Physiology II
MTMD 201 Medical Terminology I
MTMD 202 Medical Terminology II
PSYMD 201 Basic Psychology
BCSMD 201 Basic Clinical Skills I
BCSMD 202 Basic Clinical Skills II
MD 201 Medical Ethics
Third Year
ANTMD 301 Anatomy & Histology III & Embryology I
ANTMD 302 Anatomy IV & Embryology II
BCHMD 301 Biochemistry III
BCHMD 302 Biochemistry IV
PHYSMD 301 Physiology III
PHYSMD 302 Physiology IV
BCSMD 301 Basic Clinical Skills III
BCSMD 302 Basic Clinical Skills IV
Fourth Year
PATMD 401 Pathology I
PATMD 402 Pathology II
PHAMD 401 Medical Pharmacology I
PHAMD 402 Medical Pharmacology II
MICMD 401 Microbiology I
MICMD 402 Microbiology II
IMMMD 401 Immunology
MD 401 Human Genetics
MD 404 Clinical Chemistry
MD 407 Medical Research & Biometric Information
MD 402 ENT
MD 403 Ophthalmology
BCSMD 401 Basic Clinical Skills V
BCSMD 402 Basic Clinical Skills VI
MD 405 Psychiatry
MD 406 Forensic Medicine
TOXMD 401 Toxicology
Fifth Year
MD 501 Internal Medicine I
MD 502 Internal Medicine II
MD 503 Surgery I
MD 504 Surgery II
Sixth Year
MD 601 OB/GYNE I
MD 602 OB/GYNE II
MD 603 Pediatrics I
MD 604 Pediatrics II
RADMD 601 Radiology I
RADMD 602 Radiology II
MD 605 Community Medicine I
MD 606 Community Medicine II
MD 607 Dermatology & Venerology
MD 608 Rehabilitation & Physical Therapy
MD 609 Family Medicine
Seventh Year: Internship Rotation
MD 701 General Surgery
MD 702 General Medicine
MD 703 Obstetrics & Gynecology
MD 704 Pediatrics
MD 705 Emergency Medicine
MD 706 Elective
MD 707 Elective
Rules of Registration and Admission
General rules:
Registration & Admission will be granted on a "First Qualified, first-served" basis.
It is mandatory for all applicants to register online.
Online registration is not the confirmation of admission. Acceptance of admission will be confirmed after passing the personal interview. Applicants failing the interview cannot get admission to BMC.
BMC will not accept any document without online registration. Applicants have to attach all required documents (High school certificate, Diploma certificate, Transcript, copy of Saudi ID /Iqama, copy of passport, pictures, etc) on the online portal.
BMC will not accept medically unfit applicants.
Four types of applicants can apply in BMC:

Saudi high school applicant(s) (Saudi curriculum)
International high school applicant(s) (International curriculum)
Bridging applicant(s)(Diploma applicants)
University/College transfer applicant(s) (Undergraduate applicants)
Interview rules:
All applicant(s) will have to go through a personal interview at the BMC campus.
BMC will invite the eligible applicant(s) for a personal interview at any time during the registration period.
BMC will send an email for the interview. If the applicant(s) don't receive any emails within two weeks after online registration then the applicant(s) must visit the college.
The registration fee must be paid before the interview. For refunding registration fees, refer to the "Fee Refund" procedure.
Applicant(s) having an international curriculum will go through the BET (Batterjee Entrance Test) before the interview.
Applicant(s) must bring the registration fee receipt and the "online registration code" at the time of the interview.
Interview result can be notified to the applicant(s) through SMS and/or email on registered contact information.
Applicant(s) should bring their original High school certificate and original Saudi ID/Iqama to show their identity at the time of the interview.
Applicant(s) have to inform BMC in case of their absence from the interview, otherwise, the interview will be canceled.
Admission rules:
Upon getting an email of "Acceptance of admission", the applicant(s) must follow the below rules otherwise the seat will be canceled:
Visit BMC for proper enrollment in the system within the given time period.
Pay the first-semester tuition fee.
Submit original high school certificate/Transcript/ Diploma certificate.
Submit BMC medical report (Registration fee is not refundable for medically unfit students).
Submit a copy of Saudi ID/Iqama and passport.
Submit six passport size pictures.
Last updated Oct 2019
About the School
BMC is considered one of the first private specialized medical college offering a variety of majors in Saudi Arabia and one of the newest and largest private medical colleges in the Middle East. BMC a ... Read More
BMC is considered one of the first private specialized medical college offering a variety of majors in Saudi Arabia and one of the newest and largest private medical colleges in the Middle East. BMC aims to achieve excellence in medical education through well-planned curriculums consistent with international standards. To attain this, it has developed a high-tech campus that is fully equipped with the latest technology to enhance learning and teaching.
Read less