Bachelor Degree of Respiratory Therapy
Program Description
We strive to be the elite provider of education, consumer information and the benchmark for professionalism
Our Mission
To offer an academic program in respiratory care with high-quality graduates who meet the expectations of the communities of interest served by the program, to establish and maintain an outstanding regional reputation and to conduct research in respiratory care while maintaining Islamic values.
Goals
The Respiratory Therapy program at BMC strives to be the elite provider of education, consumer information and the benchmark for professionalism.
Maintaining accreditation by meeting new and update essentials set by the Saudi Commission for Health Specialties in respiratory care and clinical practice.
Encouraging both respiratory department faculty and students to participate in community service projects and professional organizations.
Utilizing the BMC research center to promote and conduct research in the respiratory field.
To provide the community with responsible respiratory therapists who interact appropriately with the changing health care system.
Exhibit exemplary professionalism parallels to ethical standards of the medical profession and in accordance with the teachings and Islamic values.
Recruiting and maintaining gender diversity in the faculty and students to meet social and health needs.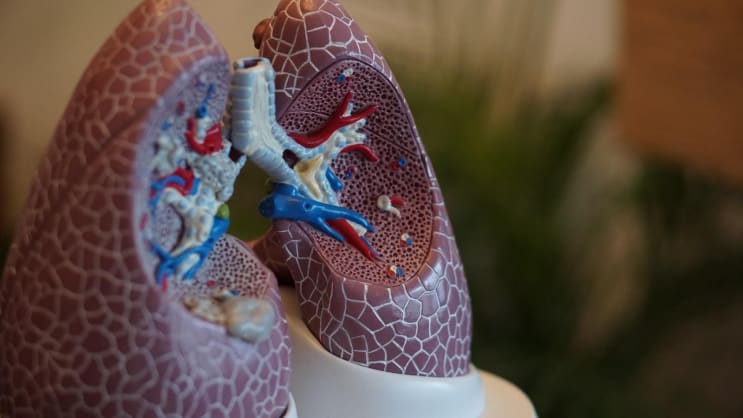 Robina Weermeijer / Unsplash
Program Description
The students graduate from respiratory therapy department at BMC called a respiratory therapist. Respiratory therapists are the health professionals responsible for taking care of patients with heart and lung (cardiopulmonary) problems.
Respiratory Therapy is a health specialty involving the treatment, management, control, diagnostic evaluation, and care of patients with deficiencies and abnormalities of the cardiopulmonary system. In the hospital setting, the respiratory therapist provides care and life support to patients in the emergency room, intensive care units, general hospital areas, the pulmonary diagnostics laboratory and other specialty areas such as pulmonary rehabilitation.
The respiratory professional is also involved in the diagnostic testing of infants, children and adults with underlying medical concerns including disease, accidents, and sleep disorders.
Program Structure
The first year
During the first year, the student will complete their preparatory year in the Health track. Courses this year include biology, chemistry, biophysics, mathematics, biostatistics besides Arabic, English, medical terminology, computer, study skills, and Islamic medical ethics.
The second year
During the second year, students must integrate the knowledge of anatomy, physiology and pathophysiology and microbiology. As well as, introduction courses related to respiratory therapy such as introduction to RT, medical gases & aerosol therapy and respiratory pharmacology.
The third and fourth year
Third and fourth years, students will cover all core courses which deal with therapeutic and diagnostic procedures and tests, equipment, patient assessment, CPR, mechanical ventilation, critical care, sleep disorders, disease management, pulmonary function test and the application of clinical practice guidelines.
The fifth year
Students will conduct Internship training in a qualified respiratory therapy department for one year.
Career Path / Advice
There is a critical need for more respiratory therapists in KSA. However, Out of 411 hospitals in KSA, only 88 hospitals provide RC services by RTs, which represent 21.4% of the total number of working hospitals in the country. RTs has high career Opportunities, which include:
Intensive care units: adults, pediatric or neonatal
Emergence unite and floors with stable patients
Various sections of sleep medicine, studies, and labs
Laboratories specializing in lung function testing and other tests related to the heart and lungs
The role of care for the elderly
Home care, especially those with chronic diseases
Education and Management
Research centers
Curriculum
First and Second Year
RT 211 Clinical Biochemistry
RT 212 Microbiology
RT 213 General Anatomy
RT 214 Physiology
RT 221 Introduction to RT Profession
RT 231 Medical Gases & Aerosol Therapy
RT 222 Respiratory Anatomy & Physiology
RT 232 Patient Assessment
RT 233 Respiratory Care Therapeutics
RT 223 Respiratory Pharmacology
RT 281 RT Clinical Training I
Third Year
RT 324 Respiratory Diseases I
RT 334 Blood Gases
RT 361 Pulmonary Radiological Imaging
RT 362 Basic Pulmonary Function Testing
RT 341 Fundamentals of Mechanical Ventilation
RT 382 RT Clinical Training II
RT 325 Respiratory Diseases II
RT 342 Clinical Application of Mechanical Ventilation
RT 363 Advanced Pulmonary Function Testing
RT 364 Electrocardiography
RT 371 Health Information Management
RT 383 RT Clinical Training III
Fourth Year
RT 443 Prenatal & Pediatric Respiratory Therapy
RT 451 Pulmonary Rehabilitation & Home Care
RT 472 Applied Biostatistics
RT 473 Research Methodology
RT 474 Research Project I
RT 484 RT Clinical Training IV
RT 475 Respiratory Therapy Education
RT 4444 Critical Care
RT 465 Polysomnography
RT 452 Clinical Respiratory Seminar
RT 476 Ethics in Respiratory Therapy
RT 477 Research Project II
RT 485 RT Clinical Training V
Internship Rotation: Fifth Year
INTRT 581 General Wards: Adult & Pediatric
INTRT 582 Adult Critical Care
INTRT 583 NICU, Delivery Room & Well Nursery
INTRT 584 ER
INTRT 585 OR
INTRT 586 Psychiatric Unit (Psy.)
INTRT 587 Biomedical Engineering
INTRT 588 Sleep Laboratory
INTRT 589 Home Healthcare
INTRT 58-10 PFT Laboratory
INTRT 58-11 Bronchoscopy
Rules of Registration and Admission
General rules:
Registration & Admission will be granted on a "First Qualified, first-served" basis.
It is mandatory for all applicants to register online.
Online registration is not the confirmation of admission. Acceptance of admission will be confirmed after passing the personal interview. Applicants failing the interview cannot get admission to BMC.
BMC will not accept any document without online registration. Applicants have to attach all required documents (High school certificate, Diploma certificate, Transcript, copy of Saudi ID /Iqama, copy of passport, pictures, etc) on the online portal.
BMC will not accept medically unfit applicants.
Four types of applicants can apply in BMC:

Saudi high school applicant(s) (Saudi curriculum)
International high school applicant(s) (International curriculum)
Bridging applicant(s)(Diploma applicants)
University/College transfer applicant(s) (Undergraduate applicants)
Interview rules:
All applicant(s) will have to go through a personal interview at the BMC campus.
BMC will invite the eligible applicant(s) for a personal interview at any time during the registration period.
BMC will send an email for the interview. If the applicant(s) don't receive any emails within two weeks after online registration then the applicant(s) must visit the college.
The registration fee must be paid before the interview. For refunding registration fees, refer to the "Fee Refund" procedure.
Applicant(s) having an international curriculum will go through the BET (Batterjee Entrance Test) before the interview.
Applicant(s) must bring the registration fee receipt and the "online registration code" at the time of the interview.
Interview result can be notified to the applicant(s) through SMS and/or email on registered contact information.
Applicant(s) should bring their original High school certificate and original Saudi ID/Iqama to show their identity at the time of the interview.
Applicant(s) have to inform BMC in case of their absence from the interview, otherwise, the interview will be canceled.
Admission rules:
Upon getting an email of "Acceptance of admission", the applicant(s) must follow the below rules otherwise the seat will be canceled:
Visit BMC for proper enrollment in the system within the given time period.
Pay the first-semester tuition fee.
Submit original high school certificate/Transcript/ Diploma certificate.
Submit BMC medical report (Registration fee is not refundable for medically unfit students).
Submit a copy of Saudi ID/Iqama and passport.
Submit six passport size pictures.
Last updated Oct 2019
Keystone scholarship
Discover the options our scholarship can give you
About the School
BMC is considered one of the first private specialized medical college offering a variety of majors in Saudi Arabia and one of the newest and largest private medical colleges in the Middle East. BMC a ... Read More
BMC is considered one of the first private specialized medical college offering a variety of majors in Saudi Arabia and one of the newest and largest private medical colleges in the Middle East. BMC aims to achieve excellence in medical education through well-planned curriculums consistent with international standards. To attain this, it has developed a high-tech campus that is fully equipped with the latest technology to enhance learning and teaching.
Read less