Program Description
Taught in English
Practicals in Spanish
Odontology Clinic
The latest cutting-edge technology in learning
Internal internships start from the first year and guaranteed professional internships
Spanish Language Courses
Testimonial
Alejandro Pallarés, student in Bachelor's Degree in Dentistry
"I must highlight that my teachers have always been really quick and ready to answer any of my doubts and personal treatment has been very close to all students. We have a personal tutor".
Student Profile
Students interested in joining the Bachelor's Degree in Dentistry at UCAM must demonstrate the following skills:
Skills in basic sciences like Biology, Chemistry and Physics
Must have interest for dental and general healthcare and have a commitment to service
It's important to have good habits of study, organization, self-criticism and teamwork skills
Should have the ability to interact with other people, be able to listen to the patients and understand them
Ability to adapt to changes
One of the features that differentiates Dentistry at UCAM from others is some of the innovative subjects in the Curriculum, like Dentistry and Dietetics, Dentistry and Sports, or Planning and Management of a Dental Clinic, as these subjects can open new career paths for our students. Besides that, you will have the guidance of teachers closely involved, as well as fully-equipped facilities
UCAM offers a quality academic program, focused on your future professional success from day one. Our Bachelor's Degree in Dentistry offers contact with the real profession, as there will be a lot of clinical internships.
Reasons to Choose
There are many compelling reasons to choose dentistry as a career. For example, dentistry offers an opportunity to make a difference in your patient's health and well-being. It's a career that gives you a chance to be your own boss and potentially own a dental practice. New exciting scientific breakthroughs in gene therapy and biotechnology offer dentists an opportunity to preserve their patient's overall oral health, self-esteem and most importantly, their smiles.
The educational objective for the training dentists at our Catholic University does not solely consist in the transfer of theoretical and practical knowledge inherent to the study plan, but also, its objective is to educate upstanding individuals, who integrate themselves into society both creatively and as agents of change. Our Catholic identity and our firm commitment to quality and excellence go hand in hand.
Tomorrow's dentists will be on the cutting edge of technology, using lasers and computer-assisted diagnosis, making the practice of dentistry more challenging and rewarding.
The Catholic University of San Antonio contributes to real development and progress on a societal level by cultivating individuals who are capable of critical, rational judgment, and who are conscious of the transcendental dignity of the human being; People who place themselves at the service of the population and of society itself and who, from the moment they first establish contact with the university, will experience the feeling of being treated as unique individuals in full possession of their dignity.
The teaching staff consists of professors, doctors, dentists, stomatologists, biologists, microbiologists, pharmacists and specialists from different medical and dentistry fields, such as implant specialists, endodontists, pediatric dentists, orthodontists, etc. who are nationally and internationally respected dentistry professionals.
This course's academic program is compatible in all EU countries, facilitating exchanges.
Career Opportunities
Work in the healthcare sector.
Clinical practices in public and private odontology clinics, and in the management of dental companies.
Prevention, diagnosis, and treatment of illnesses and problems affecting the teeth, the mouth, the jawbone, and the neighboring areas.
Excellent opportunities exist in teaching, research, careers with government agencies or in the industry.
Internship
UCAM offers more than 2.000 practice-internship agreements. The university also offers the International Dentistry Research Professorship with excellent national and international clinicians and researchers, leaders in the field.
Last updated Apr 2020
About the School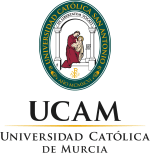 UCAM (Universidad Católica de Murcia) is a private university founded in 1996 with a clear mission: to train students with knowledge and skills to serve society, to contribute to the further expansion ... Read More
UCAM (Universidad Católica de Murcia) is a private university founded in 1996 with a clear mission: to train students with knowledge and skills to serve society, to contribute to the further expansion of human knowledge through research as an integral part of the development of mankind and to participate in the evangelical mission of the Catholic Church in the areas of education and culture.
Read less