Program Description
Mission
The Mission of the Faculty of Pharmacy is to educate, train, and provide life-long learning opportunities for students, pharmacists and scientists, while creating, disseminating and applying new knowledge based on research in pharmaceutical and clinical sciences to enhance the quality of life through improved healthcare.
Distinctive features of the programme
The BUE delivers programmes based on a British philosophy of education. This results in programmes that are very much focused on the students rather than those who deliver the material. Graduates from UK programmes typically exhibit:
the ability to think creatively and with strong problem-solving skills;
high-level key and transferable skill sets;
independently maintained a high level of professional and subject specific as well as general technical competence;
the ability to consider problems at a high level (i.e. to see the big picture);
diligence and ethical working practices;
flexibility and the ability to apply their subject-specific knowledge to fields outside of their own.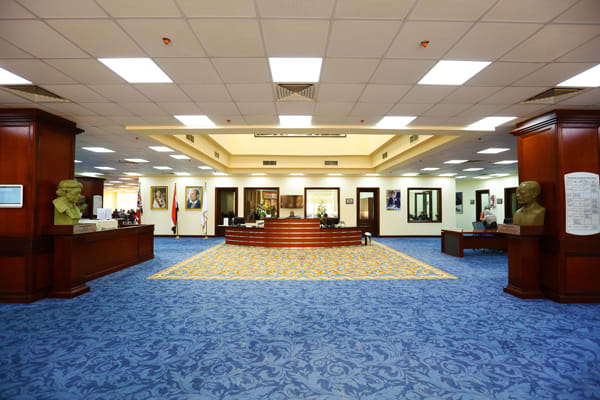 The BUE Mission is to be the leading provider of high-quality education in the MENA region. The University is committed to ensuring UK validation of its programmes and to ensure a student experience that is in line with UK standards. Built on top of institutional quality assurance is subject level validation and the Faculty is committed to ensuring that its degree programme is in line with UK standards. An indicator of this will be the dual award of both an Egyptian B Pharm and a B Pharm from UK partner
The Faculty of Pharmacy at BUE strives to provide an up-to-date technical programme, to its students, in order to provide a self-reliant pharmacist who is capable of keeping up and coping with today's and tomorrow's fast-changing high tech pharmaceutical care. The programme offers a unique set of modules and speciality areas that allow the student to develop the necessary skills and/or background for the purpose.
Furthermore, we will be seeking accreditation of this degree programme with the Royal Pharmaceutical Society of Great Britain (RPSGB), the UK's leading professional body for this programme discipline. Accredited degree programmes are the preferred and fast-track routes for those who aim to obtain the professional qualification.
At the time of writing, and to the best of our knowledge, this combination of academic and professional accreditation makes our programme in Pharmacy quite unique in both Egypt and the surrounding region.
Programme aims
To provide students with a systematic understanding of the knowledge-base of Pharmacy.
To enable the students to analyse complex issues both systematically and creatively, make sound judgment in the absence of complete data and communicate their conclusions clearly; the ability to be self-directed and innovative in tackling and solving problems; the independent learning ability necessary for continuing professional development.
To offer a broad curriculum which provides state-of-the-art knowledge and practical skills in Pharmaceutical care.
To ensure the development of students who can contribute to the care of patients and to the profession by practising with competence and confidence in collaboration with other health care providers
To provide a learning environment that enables students of the high innate ability to reach their full potential, personally and academically, so that on graduation they are free to choose from many different careers and have the understanding, knowledge and personal maturity to make a rapid contribution to their chosen employment or research area.
To provide a programme which meets the educational requirements of all the appropriate professional institutions, both national and in the UK, for Membership/Chartered Pharmacy status, respectively.
Last updated Nov 2019
About the School

BUE is Egypt's major university delivering British Higher Education with students graduating with both Egyptian and UK degrees. It is the largest face-to-face provision of British Transnational Higher ... Read More
BUE is Egypt's major university delivering British Higher Education with students graduating with both Egyptian and UK degrees. It is the largest face-to-face provision of British Transnational Higher Education in the Middle East, leading in Educational Quality, the Student Experience, and Research and Enterprise.
Read less