Dual MSN/MBA - Master of Business Administration and Master of Science in Nursing
Home ›
Master ›
Nursing ›
Dual MSN/MBA - Master of Business Administration and Master of Science in Nursing
Program Description
Seidman College of Business and Kirkhof College of Nursing offer a combined Master of Business Administration and Master of Science in Nursing (MSN/MBA). Persons wishing this degree must meet the admission requirements of both schools with the exception that satisfactory performance on only the Graduate Record Exam (GRE), rather than the GMAT, is required. Applicants for the MSN/MBA may be admitted to the joint program or to either the MSN or the MBA depending on each college's admission committee review and decision. The combined MSN/MBA is designed to prepare graduate nurses for professional opportunities in health care delivery systems.
Master of Science in Nursing/Master of Business Administration Program
All MSN/MBA candidates must complete the MBA background requirements listed in the Seidman MBA program except FIN 521. Also required are the following four 3-credit courses:
BUS 610 Management Information Systems & Org. Processes
BUS 631 Leadership and Organizational Dynamics
BUS 671 Global Competitiveness
BUS 681 Strategy
Candidates must also complete at least three of the following five 3-credit MBA courses:
ACC 611 Managerial Accounting
FIN 621 Financial Policy for Managers
ECO 641 Business Economics and Strategy
MKT 651 Marketing Management
MGT 667 Service Management
Candidates must also complete the following MSN courses:
NUR 520 Theory Development in Nursing
NUR 540 Health Care Delivery
NUR 646 Nursing Administration
NUR 690 Research Development in Nursing
NUR 692 or 694 Nursing Protocol or Thesis Preparation
NUR 693 or 695 Nursing Protocol or Thesis
STA 610 Applied Statistics for Health Professions
NUR 523 (4,5,6,7,8) Clinical Judgment
HS 608 Pathologic Physiology
NUR 533 (4,5,6,7,8) Health Perspectives
NUR 633 (4,5,6,7,8) Clinical Applications
NUR 648 Administrative Practicum
Candidates may choose to earn the Advanced Practice Nurse in addition to the MSN/MBA. Completion of the following four additional courses is required for this specialty. Candidates selecting this option are not required to complete NUR 648.
NUR 651 Roles in Advanced Practice
NUR 620 Clinical Pharmacology
NUR 652 Advanced Practice Nursing I
NUR 653 Advanced Practice Nursing II
Last updated Jan 2018
About the School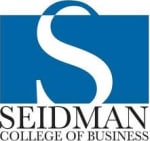 Seidman is the dynamic growing business school located in the heart of greater Grand Rapids business community. The 68 full-time Ph.D. faculty are dedicated to helping our students and our business pa ... Read More
Seidman is the dynamic growing business school located in the heart of greater Grand Rapids business community. The 68 full-time Ph.D. faculty are dedicated to helping our students and our business partners grow and prosper. At Seidman, the focus is on the future. The changing technology of the 21st century is embraced in our classrooms. The faculty prepares our students for their place in the global business environment. You may be looking at this page as an undergraduate or graduate student or you may be one of the business leaders seeking the expertise of our faculty or our business resources. Local, national and international companies engage the Seidman faculty in consulting services because more than 90% hold doctoral degrees and their research appears in leading business journals, magazines, seminars and trade publications. Faculty in business look to the future when they teach business, provide assistance, and develop research. Committed to serving the needs of the business community by providing information services, the Small Business & Technology Development Center, customized research, and no cost one-time business counseling. Support is also provided through seminars and by programs based in the Centers for Business Ethics, Entrepreneurship, and Family Business. Vision Statement To become known as a preferred source of graduates educated to apply a creative, integrated, and cross-disciplinary approach to business. Mission Statement The Seidman College of Business provides a rigorous learning environment, with a student focus, a regional commitment, and a global perspective. In its teaching, scholarship, and service activities the College innovates applies knowledge and integrates concepts.
Read less