License in Optics Eyewear
Program Description
By training, the optician-eyewear is invested with multiple skills. It is a vision specialist scientifically equipped in contact and optometry to interpret and translate prescriptions of the ophthalmologist as a visual aid to correct defects or deficiencies in vision.
The mastery of his art and his initiation to marketing and communication techniques allow him to advise and guide the patient in his choices to find the product that suits him best, and this according to aesthetic, technical and financial criteria: thinned glasses , bifocal, anti-reflective, with a light frame or contact lenses.
It is also a business leader who must listen to his customers and understand their expectations and offer them frames to suit their tastes. As glasses are also a fashion accessory, he must stay abreast of trends.
The Optician is also a technician; It ensures the maintenance of frames and makes adjustments and adjustments necessary to ensure the comfort of its customers.
In his store, the Optician is also responsible for managing stocks and often managing a team of employees.
The optician must possess the qualities of a good manager, he must be warm, sociable, organized and methodical.
strengths
UPSAT offers its 3rd year students additional training at the Faculty's premises by a team of specialists in marketing, sales techniques, management of an optical shop, novelties in optical glasses and machines as well as works practices on these machines.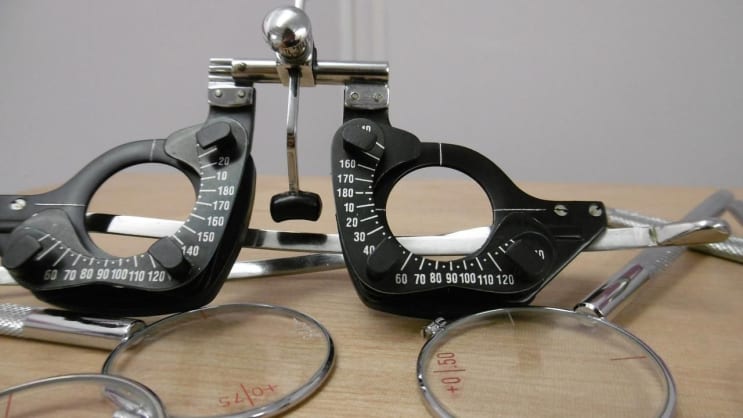 bspence81 / Pixabay
Training program
Semester 1
Algebra and trigonometry
Geometry
General anatomy
cellular biology
Human physiology
General and ocular histology
Chemistry
Geometrical optics
C2I
Internet and web
English
French
Semester 2
Ocular anatomy
Ocular physiology
Physical optics
Instrumental optics
Ophthalmic optics 1
Vision Analysis 1
Study and design of frames and glasses
Frame technology
Safety at work
First aid
English
French
Semester 3
Semiology and general pathology
General Pharmacology
Ophthalmic optics 2
Vision Analysis 2
Lens and frame technology
Assembly technology
Study of the previous segment
Biometric measurement
Hygiene
Psychosociology
English
French
Semester 4
Ocular pathology
Special pharmacology
Physiological optics
Vision Analysis 3
Special equipment technology
Special equipment technology
Assembly Technology 2
Material technology
Adaptation of soft lenses
Low vision and color filter
French and communication techniques (contact and attitude)
Visual rehabilitation
English
Semester 5
Eye health screening
Aberrometry and horn topography
Optometric analysis and decision
Clinical case study
Adaptation of the regular and special practice lenses
Optical technology in eyewear 4
Equipment for sportsmen and legislation
Biostatistics and research methodology
French and communication techniques relationnell
English
Semester 6
Optical internship at an optician
Factory internship
Hospital internship
Research seminar
Optical internship at the institution's laboratory: tp on machine and optical glasses
Introduction to commercial law
The company: functions and management
Marketing and sales techniques
Management of the optical store
French and communication techniques (information and creation)
Visual rehabilitation
PFE
English
Professional Horizons
Young opticians have no trouble finding work. After several years of experience, an optician can, if he has a capital and the necessary knowledge in accounting and management, open his own shop.
Free practice:
Tooled with the know-how acquired during his training, a young optician can launch his own project as:
Optician
Optician Contactologist
Optician optometrist
Wholesaler of eyewear
As an employee:
Senior Technician in an optical chain
Senior Technician in an Ophthalmology Department
Conditions of admission
In the first year of a Bachelor's degree, students with a bachelor's degree or a diploma recognized as equivalent are admitted.
Are admitted in the second or third year of the license, the students having respectively succeeded one or two years of higher studies in the same specialty or in related specialties.
Admission in the 3rd year is also done on file with the holders of a diploma of higher technician (DEST, DUT) or a diploma sanctioning studies undergraduate (DEUPC) in the specialty or in related specialties.
Last updated Mar 2020
About the School
L'UPSAT, faculté privée des sciences de la santé, a été fondée en 2001. Elle est pionnière dans l'enseignement universitaire paramédical en Tunisie. UPSAT est la première institution d'enseignement su ... Read More
L'UPSAT, faculté privée des sciences de la santé, a été fondée en 2001. Elle est pionnière dans l'enseignement universitaire paramédical en Tunisie. UPSAT est la première institution d'enseignement supérieur paramédical privé à être reconnue par le Ministère de l'Enseignement Supérieur et de la Recherche Scientifique ainsi que par le Ministère de la Santé.
Read less