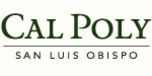 California Polytechnic State University, San Luis Obispo
Home ›
USA ›
California Polytechnic State University, San Luis Obispo
California Polytechnic State University, San Luis Obispo
Founded in 1901, California Polytechnic State University (Cal Poly) is one of five comprehensive polytechnic universities in the U.S., with about 18,000 undergraduate and 900 graduate students. Cal Poly maintains a guiding philosophy of "Learn By Doing" that is reflected in the school's comprehensive curriculum combining technical and professional training with the arts and humanities. This prepares students to become resourceful professionals and innovative leaders from the moment they step foot on campus. As one of the most selective universities in the California State University (CSU) system, Cal Poly consistently ranks "Best in the West" by U.S. News and World Report and is considered one of "The Best Colleges for Your Money" by Money Magazine.
Accreditation
Cal Poly is accredited by the Western Association of Schools and Colleges (WASC) every ten years. During the accreditation process, Cal Poly completes a self-study process, where we demonstrate our ongoing commitment to the continuous improvement of our programs—both curricular and co-curricular. The vehicle for doing this is the self-study, which asks us to define an inquiry that can measurably improve student learning, an exercise in collaboration and in thinking that is both critical and creative, to cite our own University Learning Objectives.
Awards
#1 public master's University in the West by U.S. News. 22 consecutive years
#70 out of 1,500 colleges for "best overall value"
#13 among public schools for graduates' median salaries
#7 among public universities for return on investment
#4 in the nation for Aerospace & Computer Engineering
#5 in the nation for ROI, Orfalea College of Business
#1 in the nation for Industrial/Manufacturing Engineering
#3 in the nation for Civil Engineering
#1 in the nation for Architecture and Design
#4 Aerospace Engineering program in the nation for universities that do not offer a doctorate
Top 10 colleges for highest paid graduates in the field of Education
San Luis Obispo
San Luis Obispo is a pleasant, progressive city of about 46,000 on California's Central Coast, midway between San Francisco and Los Angeles. The city and university share a neighborly, small-campus, small-town feeling and one of the finest natural environments anywhere. Sparkling-clear air and a climate that's temperate year-round blend with majestic peaks, quiet valleys, and the nearby ocean to create an exhilarating environment that is ideal for learning and growing. Another key feature contributing to the city's great quality of life is the delightful downtown. The heart of downtown is Mission Plaza with its wonderful creekside setting and beautifully restored mission. This historic plaza is complemented by a bustling downtown offering great shopping, outdoor and indoor dining, nightlife, and its famous Thursday Night Farmers' Market. San Luis Obispo won Sunset magazines "Best Downtown" in the West designation. We are a friendly place and encourage you to visit with us in person. Come to the campus and see the true richness of the educational possibilities at Cal Poly and the simply wonderful natural environment of San Luis Obispo and California's Central Coast.
Locations
San Luis Obispo
California Polytechnic State University
Address
California Polytechnic State University 1 Grand Ave. Bldg 52-E47
93407
San Luis Obispo
,
California
,
USA